2020 Maryland Legislative Session Policy Orientation
Nov 20, 2019 08:00 AM - Nov 20, 2019 01:15 PM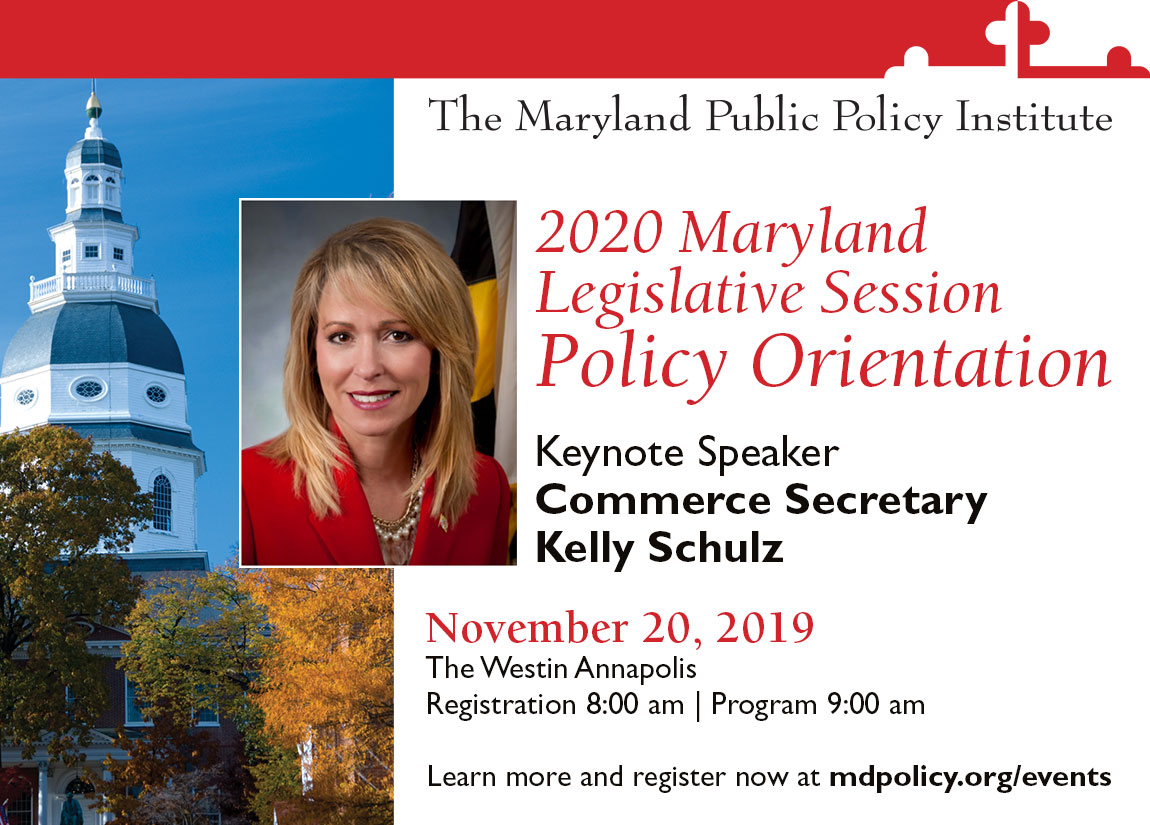 The Westin Annapolis
100 Westgate Circle, Annapolis, MD 21401
Registration - 8:00am
Program Begins - 9:00am
Join Commerce Secretary Kelly Schulz, business executives, and engaged citizens for a jam packed discussion on Maryland's most pressing policy debates heading into the 2020 legislative session. Just two months before Maryland lawmakers convene on Annapolis, the summit will feature top government decision-makers and business leaders making the big decisions on tax increases, K-12 education funding, legalizing recreational marijuana, and the Opportunity Zones economic development initiative – including a lunchtime keynote address from Commerce Secretary Kelly Schulz.
Panel #1 – Kirwan Commission Recommendations: Can Maryland Afford It?
After working on recommendations for over two years, the Kirwan commission released the price tag of its ambitious proposal to overhaul public schools in Maryland. The $3.8 billion of additional spending a year includes wide-sweeping changes to curriculum, overhauling teacher standards, developing career paths for high school students and establishing pre-kindergarten for all four-year-old's and three-year old's from low-income families. This session will address the impact these programs.
Panel #2 - Opportunity Zones – Unleashing Growth in Maryland
With the Hogan Administration making Opportunity Zones a major economic development priority and at least one zone in every county and the City of Baltimore, this program has the potential to revitalize both urban and rural areas of our state. This session will delve into the future of Opportunity Zones in Maryland and steps localities can take to maximize their long-term impact.
Panel #3 - Will Recreational Marijuana Rake in the Green for Maryland?
A legislative task force is exploring legalizing recreational marijuana to help raise revenue to pay for a massive expansion in K-12 education spending. Currently eight states sell adult-use marijuana in licensed retail dispensaries. Will Maryland be the ninth? This panel will examine the budget impact legalization has had in these states along with social impact it has on communities.
Lunch: Keynote Speaker Commerce Secretary Kelly Schulz