Maryland 2002-2003
A Guide to the Issues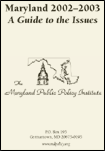 Dimensions: 5.5'' x 8.25''
Publication Date: October 2002
Paperback:
ISBN: 0-0000000-0-0
Price: $7.00
Add to Cart

Table of Contents

Introduction
Christopher B. Summers and Thomas A. Firey

Chapter 1
The Economy
Anirban Basu

Chapter 2
Budget and Taxes
John Barry

Chapter 3
Health Care
Dwight K. Bartlett, III

Chapter 4
Transportation
Peter Samuel

Chapter 5
Education
Page Holland Hamp and Christopher B. Summers

Chapter 6
Child Welfare
Robert M. McCarthy

Chapter 7
Public Safety
David B. Muhlhausen

Chapter 8
Agriculture
Bruce Gardner

Chapter 9
Environment
H. Richard Seibert
Table of Contents
The Maryland Public Policy Institute, a nonpartisan public policy research organization that focuses on state issues, releases its first major publication Maryland 2002-2003: A Guide to the Issues.
"The collection of issues that Maryland now faces is among the most difficult in the state's history, but many residents have little knowledge of those issues," said Maryland Public Policy Institute president Christopher Summers who founded the institute in 2001. "We hope that all state residents will read the book, learn about Maryland's concerns, and debate the merits of the suggested policy responses."
The 120-page Guide contains nine essays written by some of the region's top public policy experts. Among the authors are Regional Economic Studies Institute senior economist Anirban Basu who wrote the state economy chapter, former state insurance commissioner and Social Security Administration chief actuary Dwight Bartlett III who wrote the health care chapter, and nationally renowned University of Maryland agriculture economist Bruce Gardner who wrote the agriculture chapter.
Guide editor Thomas Firey said the choice of authors reflects the institute's dedication to objective, expert policy analysis. "We believe it was extremely important for the book to be written by thoughtful, learned analysts because Marylanders are usually bombarded by policy ideas inspired by polemics or political maneuvering instead of clear-headed analysis," Firey said. "Readers of all political ideologies will find the book very informative and useful."
"We are very pleased that this is the Maryland Public Policy Institute's first major publication," said Summers who noted that the institute has previously published op-eds and short policy briefs. "We believe this is an excellent introduction of the institute to the people of Maryland."