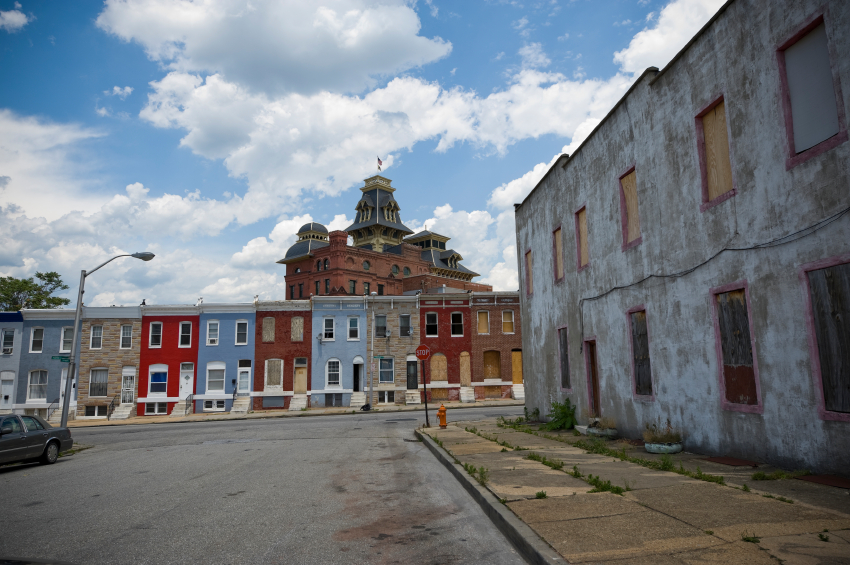 Is Baltimore City Maryland's Biggest Challenge for 2019
2018 was not a good year for Baltimore City.
For the fourth year in a row, the city suffered over 300 homicides. Although that reflected a small improvement from 2017, when Baltimore recorded the highest per capita homicide rate among large American cities at 343, the situation has continued to be far worse than in 2014, when the city documented 211 murders.
The Baltimore City school board has closed 30 public schools since 2013 due to declining enrollments and poor performance. In 2018, the school board discussed closing six additional public schools. The fate of over 2,000 students is still to be decided this month.
For Baltimore residents hoping that 2019 will be a better year, there seems to be no light at the end of the tunnel just yet.
Earlier this month, Baltimore City's Board of Estimates approved a 30 percent water rate increase for city residents beginning in mid-2019. An average family of three can expect to see their water bills increase by about $8 per month. Since Baltimore County also raised water rates by an average of 13.9 percent in 2018, county residents face two rate increases within a year.
While the water rate hike seems unfair, Baltimore City residents have no way out: last November, they voted for the city to become the first in the nation to ban water privatization through a charter amendment. The biggest irony is that most residents opposed privatization of the water system because they worried that their water bills would rise. Now residents face higher water bills, plus no alternatives to fixing the city's decaying water and wastewater infrastructure.
For years, Baltimore City have been losing residents to neighboring counties, as the city maintains the highest property tax rate in Maryland at $2.248 per $100 of assessed property value. With 20,000 unoccupied properties, some areas of the city are at the risk of becoming ghost towns. With water rates rising, schools closing, and an annual homicide record surpassing 300, there seems to be little reason why more people will be compelled to move to Baltimore City in 2019.
So is Baltimore City going to be Maryland's biggest challenge for 2019? It doesn't have to be.
While it may be difficult to make Baltimore City more livable in just a year, state and city officials can begin addressing the city's problems one by one, starting with the most achievable goal: make Baltimore City at least as economically attractive as other jurisdictions in Maryland. To achieve that goal, legislators can begin by tackling water rates and the property tax rate.
Amid news of the scheduled increase in water bills in the coming months, residents face a threat of losing their homes. In Baltimore City, owner-occupied homes can go to tax sale if they have at least $750 in unpaid bills that are at least nine months late. Since no other jurisdictions in Maryland threaten to take away homes or properties over water debt, residents can simply move to other counties if they do not want to deal with the city's water crisis.
To prevent such a scenario, legislators should pass the bill to permanently ban the city from placing liens against homes and other properties over unpaid water bills. Residents who refuse to pay their bills should face appropriate consequences, but taking away homes for unpaid bills is the worst type of punishment for a city that is already losing residents every year.
A more important agenda item for lawmakers in 2019, however, would be to reduce the city's property tax rate to a level that is competitive with neighboring counties. For years, professor Stephen Walters of Loyola University Maryland has argued that to repopulate the city and make it more attractive to investment, Baltimore City should lower its property tax rate toward the surrounding County's $1.10 per $100 of assessed property value. After San Francisco cut its property tax rate by 57 percent in 1978, the city collected 66 percent more in inflation-adjusted dollars in overall tax revenue in just four years.
In the long run, the goal is to make Baltimore City competitive with the most attractive cities in the U.S. by making the city safer and improving the quality of the city's public schools. In the meantime, legislators should pass water and property tax reforms in 2019 to prevent more residents from fleeing to other counties in Maryland.