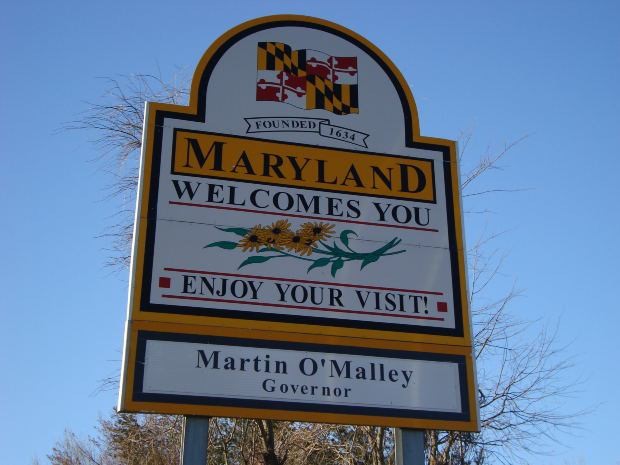 Sign of Change?
Many broad, difficult policy decisions will lie ahead of Larry Hogan when he is inaugurated next week as Maryland's 62nd governor. But one small, simple action that he could take immediately would have large symbolic value: instruct the State Highway Administration and other agencies to remove and recycle the current "Martin O'Malley, Governor" placards from Maryland's roadway "Welcome" signs and not replace them.
The placards are of no importance to travelers; I want to know when I cross a state line, but I can't imagine ever needing to know who the state's governor is. The cost savings from not changing the placards would be relatively small—perhaps a few hundred dollars per sign—but it's senseless for Maryland to spend transportation funds on such irrelevant information.
The real value of the placard order would not be the monetary savings, but the moral benefit of Hogan's signaling that he will not join in a small but corrupt political practice: using state money and resources for personal promotion.
Maryland's tradition of putting the governor's name on roadway signs began, I believe, with William Donald Schaefer, the state's 58th governor. Previously, as Baltimore mayor, Schaefer plastered his name all over city property: on road signs, park benches, trash cans, and bus shelters. One of his staffers once told me the practice was intended to show Schaefer's taking responsibility for that property, but of course that explanation was nonsense. The real purpose was to promote the Schaefer political brand, at public expense. And it worked brilliantly; every signpost and park bench became a highly visible campaign sign. When Schaefer moved from Baltimore to Annapolis, he took the practice statewide.
Maryland's three subsequent governors—Democrats Parris Glendening and Martin O'Malley, and Republican Bob Ehrlich—subsequently adopted the practice. New signs went up and new public expenditures were made each time there was a change in Government House.
Now Hogan can halt the practice and impart opprobrium on it so that future governors will be hesitant to resume it. After all, the state's fiscal and other resources should not be used for a politician's self-promotion.
Addendum: I've learned that Baltimore blogger Jeff Quinton made this same suggestion back in November. See his post here: http://www.quintonreport.com/2014/11/06/larry-hogan-should-do-this-on-day-1/