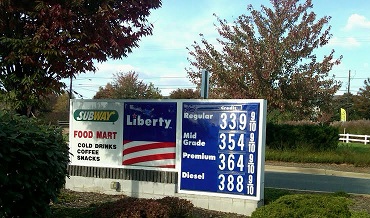 The gas tax is the next big fight
Maryland Governor Larry Hogan declared the 2015 legislative session a success, free of tax hikes. Truly, concluding a legislative session in a state that is ever-hungry for additional tax revenue and perennial spending increases without any new tax hikes is certainly a win for the average Maryland taxpayer.
But the battle is far from over, and the gas tax increase should be the next target in Hogan's sights.
Under former governor Martin O'Malley in 2013, gasoline taxes were increased via House Bill 1515. State motor fuel tax rates were set at 23.5 cents per gallon (on top of the 18.4 cents at the federal level) in 1993. In 2013, that rate was indexed to inflation, allowing it to rise every year. In just three years, gas taxes have risen to 30.3 cents per gallon, and will continue to increase.
But the gas tax increase doesn't stop there. In 2013, O'Malley imposed an additional 1 percent surcharge on the retail price of gasoline that will rise to 3 percent in July 2015. That 3 percent will increase to 5 percent one year later if the federal government doesn't legalize the collection state sales tax on all online purchases.
If the gas tax increase is allowed to phase in completely, Maryland gas prices will rise above the national average gas price by somewhere between 5 and 10 cents per gallon (at current average prices). This is the definition of being "nickled and dimed" by our state government.
To be fair to Governor Hogan, he did try to fight the gas tax increase—twice. But Senate Bill 589 and House Bill 483 both failed to pass this year. And so the fight will need to resume next year.
Governor Hogan entered the 2015 legislative session with the rain tax in his sights. With that no longer a state mandate, Hogan can devote more energy to fighting another nuisance tax that would likely drive general fund spending instead of being put to good use.