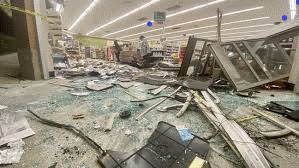 DPW employee accused of trying to steal ATM, criminal record raises questions over hiring
Originally published in FOX45 News
BALTIMORE (WBFF) — The case of a Baltimore Department of Public Works employee, who's accused of using a stolen city vehicle in an attempted ATM theft, is raising questions about the city's hiring practices.

FOX45 has learned the suspect, Kirk Parker Jr., has an extensive criminal record triggering the question of how Parker was hired in the first place.

Parker is accused of trying to steal an ATM at the BB&T bank on Lakeside Boulevard in Owings Mills last week.

Baltimore County Police say Parker used a stolen city vehicle to commit the crime.

FOX45 has learned this is not Parker's first brush with the law or his second.

According to on-line court records, Parker has an extensive criminal record that includes armed robbery and firearm charges in 2012.

Convicted in 2014, he was given a 20-year prison sentence for each charge with several years suspended, then given probation after conviction.

Parker then got a job with the city in 2019, listed as a licensed commercial driver for Public Works with an annual salary of $38,805.

His criminal record is now raising questions about the city's hiring practices.

"It's very troublesome, because we don't know why DPW hired him, who said to hire him and how he was vetted. Clearly they gave him a second chance; he blew it," said Sean Kennedy of the Maryland Public Policy Institute.

FOX45 reached out to DPW with questions about their hiring policy.

We wanted to know: 1) What is DPW's policy regarding criminal background checks for potential employees? 2) What results of a criminal background check would disqualify someone for employment? 3) Did DPW not see those serious charges against Parker as red flags when considering him for employment?

Yolanda Winkler, DPW's Chief of Communications said:
"Any DPW hire requires a criminal background check. That's standard procedure."
The other questions went unanswered, leaving Parker's position still under scrutiny.

"I'm all for allowing people, or those called 'returned citizens' or ex-offenders, to come back and start a new life. But he's proven not to do that. In fact, his violent history suggests that he should've been under immense scrutiny on the job," said Kennedy.

Parker remains behind bars at the Baltimore County Detention Center, held without bail.