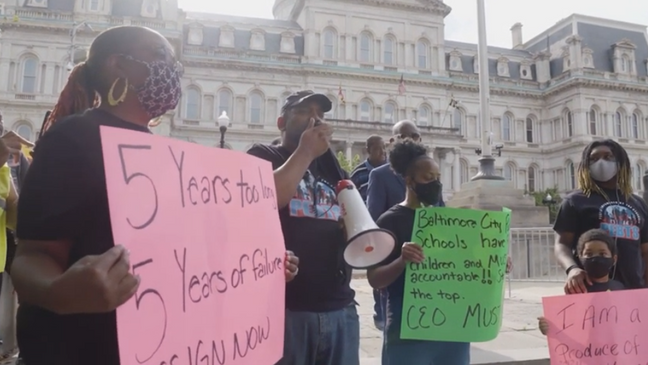 During a rally outside City Hall last week, protestors demanded Dr. Santelises resign in 12 days or they will file a class action lawsuit against (WBFF)
Email shows Baltimore City Schools sent talking points to City Council
Originally published in FOX45 News
BALTIMORE (WBFF) - We are days away from the deadline set by a group of local non-profits and community members who are threatening to sue Baltimore City Schools unless the CEO is removed from her post. The threat of legal action is a last resort for parents and taxpayers who say they've lost faith in the school system, and their elected leaders.

Shannon Wright ran for Baltimore City Mayor in 2020. She's fed up with what she calls generations of failure in Baltimore City Schools. And she doesn't believe her elected leaders are doing enough to fix it.

"Another hearing is an attempt to placate people enough to be quiet, so that they can keep it moving the way it's been moving," Wright told Project Baltimore.

FOX45 News, received an email last week from the Chair of the Education Committee Robert Stokes, saying he plans "to hold an investigative hearing around student performance learning in the coming weeks."

But Wright says another hearing is pointless, especially after watching what happened in April, when City Schools CEO Dr. Sonja Santelises was to called to testify before City Council concerning a Project Baltimore investigation into Augusta Fells Savage. This hearing grew heated when parents learned they were not allowed to ask questions.

"You all should have your hands up and be screaming at this woman, because she is failing our children," said one woman, who spoke during public comment at the April hearing.

Augusta Fells is a school where, Project Baltimore found, a student passed three classes in four years, but was still being promoted through the course levels. It's also a school that may receive tax dollars for students who were enrolled, but not actually attending the school. An internal investigation into the school has been underway for two years, and we still don't have results.

"I think this City Council and what it's doing is a joke," said another caller during April's hearing.

"They are effectively trying to control the people who should have oversight over them," said Sean Kennedy, with the Maryland Public Policy Institute, who believes part of the frustration during that hearing was because City Council members did not challenge Santelises.
That could be because of an email from City Schools that FOX45 News obtained through a public records request. It shows, shortly after Project Baltimore first reported on Augusta Fells, City Schools sent City Council members what it calls "talking points." The email reads, "Given that many of you are receiving questions regarding the recent news story that aired on FOX45's Project Baltimore about a student in the ninth grade at Augusta Fells Savage, we are writing to provide talking points."

"The idea that the City Schools are trying to control the narrative and expect that the City Council was going to tow their line should be very concerning to, not only the residents of Baltimore and the City Schools parents, but everybody in Maryland," said Kennedy.
With little faith that another hearing will help, some community members are trying a different approach to get results. During a rally outside City Hall last week, protestors demanded Dr. Santelises resign in 12 days or they will file a class-action lawsuit against the City School Board, the Mayor's Office and Baltimore City Council.

"All we've had is people running their mouth, more smoke and mirrors and no progress in terms of getting an actual good quality public education for our students," Wright told Project Baltimore. "So, no, I am not impressed, pleased with, or think that anything different is going to come out of this next hearing that's come out of the ones in the past."

Sunday marks the end of the twelve-day deadline that protestors imposed for Dr. Santelises to resign. The School Board has released a statement supporting their CEO.