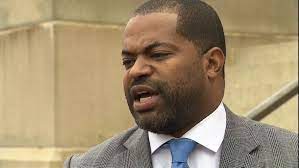 Nick Mosby reports zero campaign contributions over the past six months
Originally published on FOX45 News
BALTIMORE (WBFF) — Baltimore City Council President Nick Mosby has received zero campaign contributions since January, according to a new filing with the Maryland State Board of Elections.

The filing comes after the state told Fox45 News Mosby's campaign was past due in campaign finance reporting, noting last week that "late fees are accruing daily until the report is filed."

According to state records, the Nick Mosby campaign filed its campaign finance report on June 16, two days after the due date. The report shows just $4,000 cash on hand and zero campaign contributions since January 13.

The report also shows a nearly $14,000 difference between what the state calculates the campaign should have on-hand and the balance the campaign claims to have in its bank account. The Nick Mosby campaign faced similar questions about its cash balance reporting in late 2020.

Fox45 News reached out to Nick Mosby's campaign treasurers to confirm the campaign received no contributions over the past six months and to inquire about the discrepancy between its reported and calculated bank account balance. The treasurers did not immediately respond, nor have they responded to Fox45 News's inquiry from last week about the late filing.

"At this point, it's hard to believe anything that Nick Mosby says or reports to authorities," said David Williams, the president of the Taxpayers Protection Alliance. "Mosby has a history of obfuscation and lying to the people of Baltimore."

The apparent lack of financial support for Nick Mosby's campaign coincides with ongoing political controversy involving the council president. Despite pledging to comply with an Ethics Board ruling accusing him of improperly taking legal defense fund contributions from city contractors, Mosby filed a challenge to the Ethics Board decision shortly before the compliance deadline.

"This is basically peeling the band-aid off slowly. If you're appealing stuff like this you're probably trying to hide stuff that you don't want out there," said political analyst John Dedie.

Earlier this month, an assistant in Nick Mosby's city office was arrested in Baltimore County on charges of drug possession with intent to distribute and weapons violations. The assistant is represented by defense attorney Warren Brown, a well-known Mosby ally.

Nick Mosby is the only citywide elected official not to report any campaign contributions over the past six months. Mayor Brandon Scott received $51,230 in campaign contributions, while Comptroller Bill Henry raked $25,750 into his campaign coffers. Nick Mosby's wife, State's Attorney Marilyn Mosby, pulled in $32,738 worth of campaign contributions.

"Mosby's failure to fully account for campaign and legal defense funds is not only an ethical problem," said Sean Kennedy, a visiting fellow at the Maryland Public Policy Institute. "Since he controls Baltimore City's purse strings, Mosby's poor accounting practices might extend to how he spends taxpayer money."