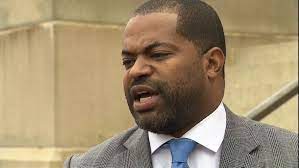 Nick Mosby sees lead exposure as the root of crime, public policy expert thinks otherwise
Originally published in FOX45 News
BALTIMORE, Md. (WBFF) — Violence hitting all corners of this city this weekend.

15 people were shot Friday with two people killed.

Three people were shot Saturday in the city in three separate shootings.

As Baltimore struggles to slow the violence, some are criticizing what one of the city's top elected leaders recently said was a contributing factor.

Last week city leaders including city council president Nick Mosby talked about the root causes of the crime and education crisis, holding a news conference addressing and updating efforts to combat lead paint poisoning in kids.

"In 2019, 560 children here in city of Baltimore were tested with elevated levels of lead in their blood," Mosby said. "One microgram per deciliter affects a child for the rest of their lives. The direct correlation to education, the direct correlation to the criminal justice system -- we understand and know that to be a fact."

Sean Kennedy with the Maryland Public Policy Institute believes he's overplaying the correlation between lead poisoning, education and crime.

"He's effectively blaming others for the failures of Baltimore City government both at the public safety level and at the education level," Kennedy says. "The idea that this is some unique problem in Baltimore is lead paint is ridiculous. Cleveland, Detroit, all these other major industrial cities across the United States have the same problem and don't see the same amount of violence. So Nick Mosby passing the blame on to environmental factors is another way for him to escape any kind of consequence or accountability for his failures as a leader."

When asked what he sees as the root causes of the crime plaguing the city, Kennedy says "there's no accountability."

"Firearm offenders, just like the individuals who shot the cop in Curtis Bay the other day, a felon in possession. They're holding firearms and they're not seeing consequences. People who don't see consequences not only themselves go on to commit crimes, but it emboldens others," he says.

"The community is saying there's no consequences so there's no reason not to do something. That's effectively what we're seeing all across the city of Baltimore with criminals. There's this very small subset of the criminal element that's committing most of these violent acts. They need to be incapacitated, taken off the street, incarcerated. We're not doing that and that's why this is continuing to go on."

Kennedy says the city should be focusing on those with firearm violations and making sure those who have previous violent crimes on their records are not allowed to be out to possible commit future crimes.