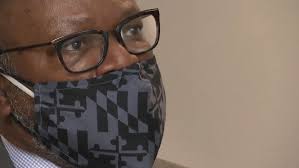 Rev. Al Hathaway prepares to launch Act Now hubs.PNG
Pastors aim to curb crime, clean up Baltimore City and hold elected leaders accountable
Originally published in FOX45 News
BALTIMORE (WBFF) – Baltimore City marked the sixth year in a row with more than 300 murders, as trash lines the streets and trust in elected leaders struggles to register above 30% among city residents.

Now, a group of faith leaders, led by a well-connected pastor, is deploying across the City to create transparency and communication hubs in an effort to turn around Charm City.

Rev. Al Hathaway, senior pastor at United Baptist in Baltimore City, said he's prepared to put thousands of people in each city council district to serve as facilitators between the people living in the City and the elected leaders who are supposed to be helping.

"If we're going to have government, it has to be up to people, by the people and for the people. And it's our responsibility to have City Hall, have our council leaders, hear directly from the people in our communities so we can have those conversations," Hathaway said.

Hathaway and his Act Now organization's new hubs will work with each city council member to curb the violence, pick up trash and maintain it, run rats out of alleys and make Baltimore City more prosperous.

According to the 2019 U.S. Census estimate, Baltimore City's population of 593,490 is the lowest it's been since 1910. The 110-year low is a trend that will likely continue, Sean Kennedy from the Maryland Public Policy Institute, said Monday.

"Baltimore will go below 500,000 and lose its big city status in the next decade. Baltimore will continue its permanent cycle of decline unless something turns it around," Kennedy said. "Unfortunately, that's going to take from the bottom up to turn Baltimore around. Annapolis can't save it. Washington, D.C. can't save it."

That homegrown, grassroots effort is exactly the idea behind Hathaway's hub plan, he said. The pastor said the people who know the city the best should be the one driving the conversation of change, and often, those people aren't elected leaders.

FOX45 News has brought the issues straight from the community member's mouth to the people who have been elected to do something about it through town halls and continuing coverage of a city in crisis. All week, FOX45 News will have continuing coverage of Hathaway's Act Now hub project and the City's response.