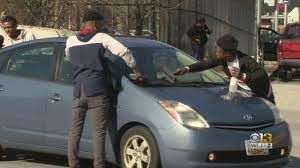 Squeegee kid: If Mayor's Office 'wanted to get us off the corner, give us a weekly check'
Originally published on FOX45 News
BALTIMORE (WBFF) — Early Friday afternoon, the squeegee kids at the corner of Mt. Royal and North Avenues are back at it again, weaving in and out of the idling cars looking to make some cash.

One of the kids, only going by James, said he's going to be a senior in high school in the fall. He said he likes to squeegee to make some extra cash, even though he said he has had a regular job in the past. But describing the squeegeeing as fun, he said he can make about $100 a day doing this, and that's cash on the spot.

According to current law, what James and his other squeegee kid friends are doing is illegal. There are various codes that prohibit soliciting from drivers while they are in the roadway, or even prohibiting aggressive soliciting, which often happens when drivers tell squeegee kids no, and they wash the windshields anyway.

James and the others, who refused to provide names, said they know what they are doing is illegal but don't really care.

The squeegee kids are back in the spotlight after Timothy Reynolds was shot and killed on July 7 at the corner of Light and Conway Streets in the Inner Harbor. Mayor Brandon Scott has doubled down on his commitment to work with the squeegee kids to find them jobs; a plan, he said, that will change the way Baltimore City handles squeegee kids.

According to the Mayor's Office, in the last 30 days, dozens of kids have gotten jobs through the Mayor's Office of African American Male Engagement. But Sean Kennedy, with the Maryland Public Policy Institute, said the fact that squeegee kids are turning to the corner for work highlights the problem in the city.

"A lot of these kids aren't qualified for a lot of work which is a failure of the Baltimore public school system; that's a failing of child protective services," Kennedy said. "The city's lawlessness is a murder-suicide pact. The leaders of the city are murdering the city as the city ignores the problem."

City State's Attorney Marilyn Mosby has said she will not be prosecuting the squeegee kids, Mayor Scott said he doesn't want to see them arrested, but Kennedy said there needs to be a clear standard in place to protect everyone otherwise people will be driven out of Baltimore.

"If they're given a carrot and stick approach, where here's a job alternative, here's something productive, and you'll make money doing it, BUT if you refuse there will be consequences," Kennedy said. "You'll be cited and eventually arrested if you continue to do it. And if you're doing anything dangerous, we'll definitely arrest you on the spot. If you extort a driver, if you damage property, you're going to jail."

Meanwhile, the squeegee kids continue to stand on the corners and make money. James said he hasn't seen the Mayor's Office out in the streets trying to help them find a job, though he said he may be willing to give up the squeegee.

"I call them, but they don't' be answering. One thing that's wrong with the Mayor's Office – they say to sign up for something, but they don't keep their promises," James said. "If they really wanted to get us off the corner – give us a weekly check – and shit like that."

The Mayor's Office said they are targeting young males between 18 and 24 years old through their job program, but said the representatives from the African American Male Engagement Office will try to engagement with anyone they come across.

Follow Political Reporter Mikenzie Frost on Twitter and Facebook. Send tips to mbfrost@sbgtv.com.