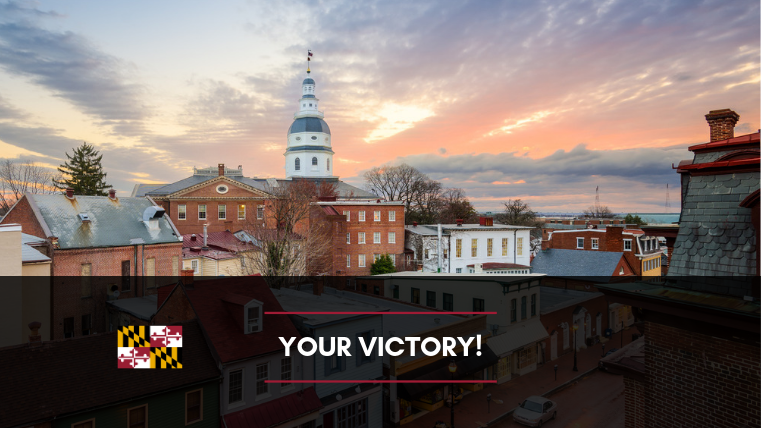 YOUR VICTORY!
MPPI Wins Big Legislative Victory for Pension Reform
We have some exciting news to share.
Supporters of The Maryland Public Policy Institute have won a major victory that will ultimately save Marylanders billions of dollars.
Governor Larry Hogan signed into law HB 821, a bipartisan plan inspired by the Institute's ground-breaking efforts to restore transparency to Maryland's public pension system, which serves 400,000 Marylanders.
Here's why it matters:
Government will be more transparent
For years, the Maryland State Retirement & Pension System hid from the public how much it really pays Wall Street money managers to manage its $53 billion portfolio.
The Institute's scholars--Jeffrey Hooke and Carol Park--dug into years' worth of data and estimate that Maryland pays its investment managers upwards of $500 million every year. Even worse, the pension system gets poor investment returns in exchange for these exorbitant fees. That's right: high fees in exchange for poor results.
Despite clear evidence that pension holders and taxpayers were being ill-served, the pension system refused to disclose how much it paid investment firms – until now.
We can save taxpayers billions of dollars
With a $20 billion shortfall, Maryland's pension system can't afford high fees or poor investment results. With the passage of HB 821, it will be more clear that cutting fees and shifting to low-cost investments will save the system an estimated $480 million annually.
400,000 Marylanders Depend on the Pension System
The Maryland State Retirement & Pension System funds the retirement of 400,000 current and former state employees. They deserve to know whether the system is making responsible investment decisions and why it's spending an estimated $500 million in exchange for poor investment returns.
It's a bipartisan issue
HB 821, the legislation inspired by our work, was sponsored by a democrat, Delegate Kumar Barve, and a republican, Delegate Robin Grammer, and passed unanimously in the Maryland General assembly.
This is your victory
Your support for the Institute means that Maryland's public pension system must now come forward with how much they truly pay for poor investment results. This is a major milestone toward saving taxpayers billions of dollars and ensuring the 400,000 pension recipients get the secure retirement they deserve.
To see the full scope of the problem, read our 2018 State Pension Fund Investment and Performance Report, which has been featured in The Wall Street Journal, Financial Times, Bloomberg, Governing Magazine, and The Washington Post.
Next, we must convince legislators to lower Maryland's investment fees to save you – the taxpayer – billions of dollars down the road. Pennsylvania, Rhode Island, South Carolina, and North Carolina are now considering their own pension reform plans based on our work. This movement is going national, but we are not done in Maryland.
Thank you again for your support that made this victory possible.