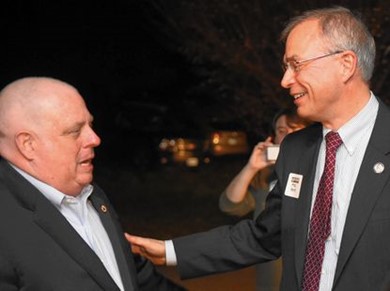 Gov. Larry Hogan and Rep. Andy Harris (Source: Google Images, Matt Button, Aegis/Baltimore Sun)
Principle Should Trump Partisanship
There aren't all that many Republicans in Maryland – just 25.5% of registered voters. But apparently there are at least two kinds. One group is principled and rooted in reality rather than conspiracy theories. The other one… isn't.

Leader of the first cohort is Gov. Larry Hogan. As President Trump's unfounded, unsupported, and increasingly absurd allegations of an electoral "steal" proceeded over the last couple of months, Mr. Hogan made clear his disagreement with rhetoric that was unfailingly reasonable, civil, and wise.

After some Republicans in Congress mounted a campaign to overturn November's results by voting not to certify the victory of President-elect Biden, however, Mr. Hogan took it up a notch: "The scheme by members of Congress to reject the certification of the presidential election makes a mockery of our system and who we are as Americans." Later he added "I think [this] is a terrible mistake for those senators and congressmen, I think it's bad for the Republican Party, bad for the country. I think it is destructive to our democracy and I think it diminishes our standing in the world."

Which brings us to Andy Harris, the state's only Republican Congressman and, sadly, a member of its conspiracy theorist wing. Whether because of ideological sympathy or political calculation, Mr. Harris has long been one of Mr. Trump's cheerleaders. Reasonable people may differ about whether that loyalty best served his constituents or the country. What is indefensible is Mr. Harris's enthusiastic embrace of the President's fraudulent post-election allegations and strategy. (Yes, somewhere George Orwell is smiling: Big Orange Brother's "Stop the Steal" campaign is, in fact, a steal.)

Mr. Harris has said that "our side will lay out why more investigation should be done and, look, I'd love to hear from the other side why the investigation shouldn't be done." This is abject denial – as if the last two months of investigations and epic failures to convince even Trump-appointed judges that Twitter-verse fantasies about election fraud have merit simply never occurred. Mr. Harris has even excused Mr. Trump's unhinged hour-long phone call attempting to strong-arm Georgia Secretary of State Brad Raffensperger into supporting his steal, spinning it as "the president was asking that efforts be made to see if there were Trump ballots, to find these Trump ballots that may have been either shredded, discarded or eliminated in some way." The Republican Mr. Raffensperger politely noted that Georgia's ballots had been thrice counted amid multiple lawsuits; there's no there there, Mr. Harris.

We would like to believe that Mr. Harris and other Trump minions in Congress are neither delusional nor dummies. Perhaps they are mere cynical partisans, seeking the favor of voters for whom Mr. Trump is an icon who can do no wrong (just as there are many for whom he can do no right). If so, perhaps Tuesday's results from Georgia's senatorial runoff will lead them to re-assess: a reliably red state, one day after a rally led by their "iconic" President in support of two incumbent Republicans, tossed them both out of office (as this is written) in favor of two left-leaning Democrats.

That loud slap and, indeed, Mr. Trump's resounding defeat in November validates both Mr. Hogan's political strategy and his ethical approach. Maryland's Governor has long shared the concerns of the majority of voters that character and principles matter – that civilized conduct, honesty, and straightforwardness are valued in the political sphere. As a result, candidates that adhere to these standards tend to last (though not, of course, always and everywhere); candidates that do not – and even Mr. Trump's most rabid fans might acknowledge his deficiencies here – tend to flame out. Georgia's results are just the latest illustration that voters are capable of punishing bad behavior, and Mr. Trump's post-election conduct has certainly fit that description.

That lesson would also be useful for Maryland voters to remember going forward. The state and some of its localities suffer from a distinct lack of political competition. That's never healthy. If the state's Republican Party gets even weaker as a result of this divisive post-election brawl, things are sure to get worse before they get better.

Stephen J.K. Walters (email: swalters@mdpolicy.org) is chief economist at the Maryland Public Policy Institute and the author of Boom Towns: Restoring the Urban American Dream.