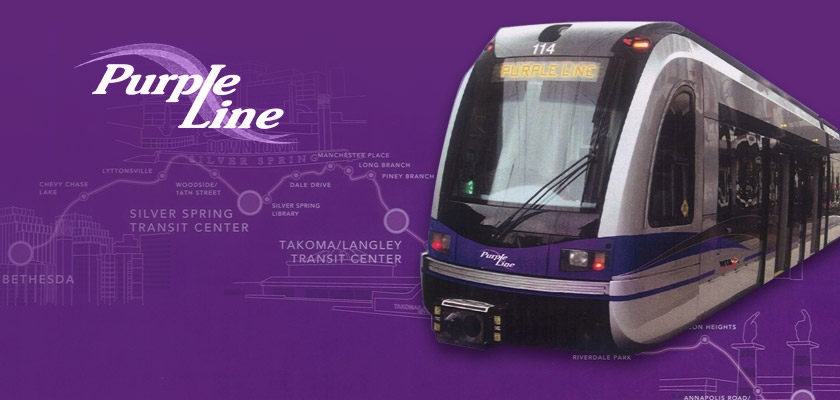 The Purple Line Delay and Cost Overrun Are No Surprise to Anyone
From the California bullet train to the Honolulu rail project, is anyone ever really surprised when rail projects encounter delays and cost overruns?
In Maryland, the 16-mile Purple Line, which will connect Montgomery and Prince George's counties, has been under construction since August 2017. According to Purple Line Transit Partners, the construction is at least a year behind schedule. The line won't be carrying passengers until February 2023, a year behind the promised opening date of March 2022.
As if the initial price tag of $5.6 billion were not enough, construction delays will add at least $215 million to the Purple Line's costs.
As early as 2015, a Maryland Public Policy Institute study warned that the project would likely exceed original cost projections.
In mid-January, Governor Larry Hogan announced another $221 million for the Purple Line in his budget proposal for fiscal year 2020. This announcement came just shortly after the Federal Transit Administration approved a $2 million grant to kick-start infrastructure improvement along the Purple Line.
Meanwhile, Friends of the Capital Crescent Trail, an environmental group, has filed a third lawsuit to halt the project, claiming that the permit allowing Purple Line construction violates the Clean Water Act.
As costs and lawsuits keep adding up, all the early doubts resurface as a single question: Is the $5.6 billion Purple Line project really worth its cost?
According to Randal O'Toole of the Cato Institute, light rail projects like the Purple Line are not cost-effective. In the Maryland Public Policy Institute study, he showed that the cost per hour saved for rail projects is as high as $26.51. The cost per hour saved for bus alternatives is around $19.34.
This brings back the point that I have also argued since 2015: Bus rapid transit is a better solution than the Purple Line for Maryland suburbs.
According to former World Bank economist Frank J. Lysy, "Bus options examined in the AA/DEIS to provide transit services in this corridor would be both much cheaper (indeed cheaper both in operating and in capital costs) and more cost-effective."
Another problem is overly optimistic ridership prediction. One of the main benefits presented by Purple Line proponents is that it would be connected to the region's Metro system, but Metro itself has been steadily losing ridership over the years. Naturally, if fewer riders are taking Metro, the number of people who would use the Purple Line would correspond.
So, what can Maryland learn from the looming $5.6 billion Purple Line failure?
First, Maryland policymakers should be more careful as they consider future railway projects. This lesson is especially relevant now, given that the state lawmakers are currently considering a $15 billion high-speed-rail project called the Northeast Maglev, a magnetic levitation train that would carry passengers from Baltimore City to Washington, D.C. in 15 minutes.
At more than twice the price tag of the Purple Line but with even more dubious ridership and economic benefit projections, the project is doomed to become an expensive catastrophe if it is not halted now.
Second, Maryland officials need to pay more attention to maintaining and upgrading existing transit options. Instead, they decided to pursue the Purple Line project at the expense of improving bus alternatives. In addition to bus systems, there are many existing transit systems in Maryland that demand more attention. In 2018, the Baltimore subway was closed for a month, after years of neglect and mismanagement by the Maryland Transit Administration.
Ultimately, Maryland's litmus test for any new transportation project should be whether there are alternative options that are more cost-effective. Given that Marylanders already had the option of driving their cars, taking Uber or Lyft, or taking buses to travel between Bethesda and Silver Spring at lower costs, the Purple Line would have inevitably failed such a test.
Many doubts about the Purple Line remain as we wait for its arrival in 2023.