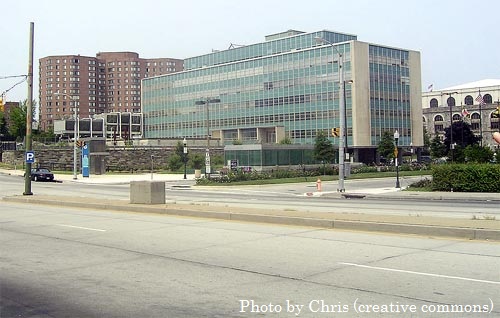 Goodbye State Center, hello Cultural Center?
Originally published in the Baltimore Business Journal
Two cheers for Gov. Larry Hogan, whose recently announced plan to have several government agencies vacate Baltimore's State Center complex solves a pair of devilish problems in the city. To use football jargon in these football-obsessed times, he has moved the ball into the red zone. The question is whether he'll push it over the goal line, settle for a field goal or fumble it.
By pulling the plug on the fabulously expensive and doomed-to-fail State Center redevelopment project, Hogan has avoided putting a sizable new burden on state taxpayers and greatly increased the chances that state employees will get to enjoy a working environment that is less, well, Soviet-style.
To call the previous plan to raze and rebuild a state office complex on the 28-acre site a boondoggle would be an understatement. That plan was born in the administration of Gov. Robert Ehrlich and embraced by his successor, former Mayor and then-Governor Martin O'Malley. Since normal, competitive bidding procedures were not followed, the $1.5 billion project soon became embroiled in controversy and litigation.
For taxpayers, the key problem was the state's promise to pay developers rents well above market rate as a way of securing private investment. In 2012, the Maryland Public Policy Institute estimated the extravagant rents and other subsidies amounted to a $127 million handout to the developers. Perhaps such huge subsidies were aimed at offsetting the city's non-competitive property tax rate, but in this "Healthy Holly" era, taxpayers might also wonder whether they were simply a payoff to the politically connected.
And apart from its cost, the plan itself was ill-conceived. While it nodded in the direction of mixed-use development, concentrating 3,300 state workers and multiple agencies in a few buildings is a horrible idea. That's too many people arriving, lunching and leaving on the same schedule; it drives out diversity and creates a commercial vacuum at most times of the day and night. As the current configuration proves, that is not an economic engine for a neighborhood. Fixing a little retail and residential on the edges wouldn't change that.
Hogan's decision to spread those workers around the Central Business District is, therefore, commendable on many levels. Most immediately, it is triage for a downtown real estate market in desperate shape, with a vacancy rate of 27% and steeply declining property values in some areas. Longer-term, it de-concentrates state employment and offers workers a much broader array of residential and commercial options while enhancing their access to public transportation.
Critics will say that renting rather than owning its office space will be costly for the state. This is simply wrong: it ignores the opportunity cost of ownership. Three tracts in State Center, for example, have a current assessed value of $59 million. Selling the site and investing that sum (at the expected 7.45% return the state targets for its pension fund) would yield $4.2 million annually. That's the implicit rent taxpayers now pay.
As a general rule, the state should get out of the real estate business. This is not just because governments tend to be bad at property management – as the dilapidated condition of State Center, which is only 60 years old, amply shows – but because the illusion that agencies operate "rent-free" often leads to wasted space and excessive fixed costs, and because the tax-free status of state-owned buildings robs local governments of needed tax base. Baltimore's foregone tax revenue on just the aforementioned three tracts is $1.3 million annually.
The dispersal of state workers downtown therefore should not be a temporary situation. Ideally, the current State Center tracts would be auctioned off, with the marketplace and creative entrepreneurs — rather than political insiders — determining their highest-valued use and users. The site's proximity to valuable cultural attractions, educational institutions and transit nodes could make it a hot ticket. One can envision a vibrant cultural center growing on the site rather than a sterile office complex.
Except, of course, that Baltimore's non-competitive property tax rate makes investors run away. But that provides Governor Hogan with a red-zone opportunity. A property tax cut — for all the city's residents, rather than just for favored developers — would greatly facilitate a sale of State Center and an expansion of the city's tax base. And fortunately, there's a plan for that.
Linking the two initiatives would be win for the state and city. Let's see if the governor calls that play.
Stephen J.K. Walters is the author of "Boom Towns: Restoring the Urban American Dream" and chief economist at the Maryland Public Policy Institute. Email him at swalters@loyola.edu.