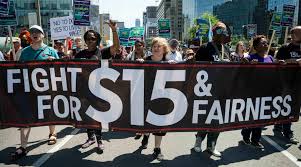 Minimum wage freeze would boost Maryland economic recovery
Originally published in the Washington Examiner
Just like 2019, this year has not been such a good year for Maryland's small businesses.

Last year, the "Fight for $15" movement led to new Maryland legislation approving a state minimum wage increase of 75 cents a year until it reaches $15 per hour in 2025. Then this March, the global COVID-19 pandemic shut down all nonessential state businesses, leaving many without income.

Currently, Gov. Larry Hogan is working to reopen Maryland's economy. When severely cash-constrained businesses are finally allowed to reopen, however, a government-mandated price floor on wages and scheduled increases will stand in the way of their recovery. While they can hardly afford to rehire workers at previous pay rates, they must also consider that the minimum wage is going rise yet again in 2021.

Therefore, Maryland's struggling business owners have just three choices: hire fewer workers, hire workers at reduced hours, or don't hire and shut down permanently.

Currently, over 556,000 Marylanders are struggling, not because of low pay, but because they have been laid off. Clearly, those who have filed for unemployment would prefer to have a job than no job at all, but the scheduled $15 minimum wage hike will prevent many unemployed Marylanders from finding work.

That's because the minimum wage mandate forces businesses to either shut down or hire fewer workers in order to pay each one more. Even before the pandemic, a 2018 study by the National Federation of Independent Business showed that a $15 minimum wage would reduce Maryland's private sector employment by 99,000 jobs over a decade.

But in the post-pandemic environment, the same mandate is going to inflict much bigger wounds on at least 92% of Maryland's small businesses. In particular, the scheduled minimum wage hike would disproportionately hurt the businesses most heavily affected by the pandemic — leisure, hospitality, and foodservice providers.

Maryland should freeze the current minimum wage of $11 an hour until the state economy has fully recovered from the pandemic. Meanwhile, lawmakers should carefully reevaluate whether the scheduled minimum wage hike to $15 an hour is a good idea. The freeze will help boost rehiring and help Maryland businesses recover more quickly from this downturn. The Maryland Chamber of Commerce and the NFIB should be commended for urging Hogan to approve this freeze.

Meanwhile, Maryland's neighboring state of Virginia, with a significantly lower minimum wage rate of $7.25, has already approved delaying the scheduled minimum wage increase, albeit only by four months. Given Maryland's overall inferior business climate compared to Virginia's — for instance, Maryland's corporate tax rate is 8.25%, compared to Virginia's rate of 6% — Maryland should follow Virginia's move to ensure that the state businesses don't simply flock to Virginia after this pandemic in order to survive.

Freezing the minimum wage for a while would also be a good move for Maryland's fiscal and economic recovery. The state is currently predicting at least $3 billion loss in state revenue for this and next year combined due to lost income and other tax revenues. In addition to cutting unnecessary government spending, an important prerequisite for regaining fiscal strength is putting Maryland workers back to work and growing income tax receipts. But without jobs, there will be no income nor sales tax revenues, and restoring fiscal health will be impossible.

Although economists believe that V-shaped economic recovery is unlikely for the U.S., there is no doubt that strong-willed leaders and judicious government policies can play a role in shortening this pandemic and the recession. In order to encourage businesses to pay their workers $15 an hour voluntarily, Maryland officials have a duty to help businesses overcome this economic crisis and continue to grow in the future.

In that light, let's not allow arbitrary price floor on wages to impede recovery of Maryland businesses, leave Maryland workers unemployed, and prolong Maryland's recession.

Carol Park is a senior policy analyst at the Maryland Public Policy Institute.