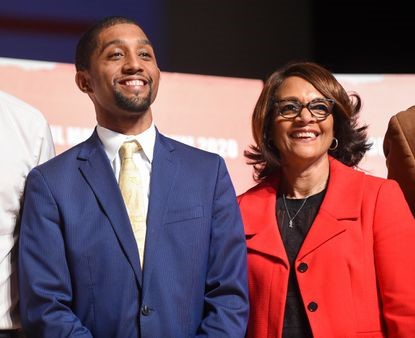 Baltimore Recycles, Declines to Turn Left (Maybe)
As this is written, Baltimore is getting much-needed favorable publicity for peacefully protesting the death of George Floyd (without rioting and looting, as in many other large cities). If the early election returns hold, however, there will be some eye-rolling over city voters' choice to be their next mayor: Sheila Dixon, who was forced out of office a decade ago after a jury found her guilty of "fraudulent misappropriation" of gift cards intended for the poor.

Critics may see this like the mid-'90s re-election of Marion Barry as Washington, D.C. mayor despite his stint in federal prison. Not to dismiss Ms. Dixon's sins (about which more will be said later), but that comparison is way off. Mr. Barry was not only corrupt to the core but a man of the Left, driving residents and employers out of the District with Robin Hood-esque redistributive programs and an indifference to law enforcement that yielded homicide rates even higher than Baltimore's today.

Ms. Dixon is a woman of the Center. Her election is, like the peacefulness of the city's protests, a refusal to double down on a more radical approach. Recycling her is an understandable embrace of pragmatism on law enforcement, budgeting, and economic development.

The furthest-Left candidate in this hotly-contested race was Brandon Scott, who moved into second place (though, again, results aren't final as of this writing) due, perhaps, to some momentum from the demonstrations and his late-May endorsement by the unfailingly "progressive" Baltimore Sun. Although Mr. Scott has spent his entire career among City Hall's in-crowd – he joined former mayor Stephanie Rawlings-Blake's staff as a "liaison" after graduating from St. Mary's College with his (what else?) poli sci degree – The Sun painted him as a fresh political face:

"He has a decade of experience in city government — long enough to develop a deep understanding of the city's management flaws, but not so long as to be a part of the problem establishment," the editors gushed. "His relative youth… has allowed him to preserve his idealism while developing expertise."

In reality, being "a part of the problem establishment" is almost all there is on Mr. Scott's thin resume. And a look at his list of endorsers made clear that he was beholden to the same interest groups that have been the chief source of money and bloc votes for that establishment since Baltimore started going off the rails back in the '50s and '60s – especially our numerous and politically muscular public employees unions. In a just political world, writing IOUs to the unions with whom you will have to negotiate contracts should be seen as a conflict of interest, a disqualification for office. Taxpayers hope you'll approach those negotiations with their interests foremost – not with debts owed for thousands of members' votes delivered.

Mr. Scott also made clear his ideological reflexes by winning the backing of hard-Left groups like the Bernie Sanders cadres fomenting Our Revolution, along with the Working Families Party, the Sunrise Movement, and others. As even The Sun noted, "Mr. Scott has at times been at odds with some business leaders in Baltimore." Exactly – and the opposite of what Baltimore's impoverished residents need most to flourish.

Because all those unions and "progressive" groups backed the wrong political horse, Ms. Dixon would return to City Hall owing them nothing – a signal virtue.

But what about her corruption baggage? It contained more than a few "misappropriated" gift cards. More substantively, Ms. Dixon was accused (rightly or wrongly) of standard Baltimore operating procedure: granting a developer a special break from the city's non-competitive property tax rate (more than double that in the surrounding county) in the name of economic development – and in exchange for favors and/or support.

That's bad, and no less so for being common. As we have pointed out for years at MPPI, Baltimore's tax system is a job killer and poverty spreader. Awarding special breaks (TIFs, PILOTs, etc.) to the politically connected has never been enough to stem the outflows of population and investment that are crucial to the city's viability – and they are brutally unfair to the un-connected and an invitation to corruption by City Hall deal-makers.

Throughout this campaign, Ms. Dixon has evidenced awareness of these facts, and a determination to make the city's tax system both more equitable and effective in attracting jobs and residents. If Ms. Dixon is able to get it done, it would be a perfect act of contrition – and a huge stride toward a real renaissance for Baltimore.

Stephen J.K. Walters (email: swalters@mdpolicy.org; Twitter: @SJKWalters) is chief economist at the Maryland Public Policy Institute and the author of Boom Towns: Restoring the Urban American Dream.